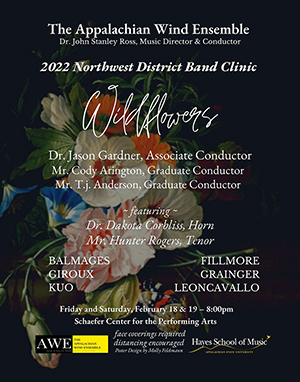 Appalachian Wind Ensemble and Jazz Ensemble I Perform for Northwest District Band Clinic
Appalachian Wind Ensemble and Jazz Ensemble I Perform for Northwest District Band Clinic
From February 17 to 19, the Appalachian wind ensemble and Jazz Ensemble I will perform their first spring concerts for students from campus, community and the Northwest District Music Clinic.
During the Northwest District Music Band Clinic, advanced middle and high school students come to the Appalachian State University campus to learn from excellent guest bandleaders and watch live performances. ensembles of the Hayes School of Music – a 50-year tradition of inspiring and teaching young musicians in the North West. Caroline.
Join us for these concerts at the Schaefer Center:
Thursday February 17, 8:00 p.m. – Jazz Ensemble I (Complete Concert)
Friday, February 18, 8:00 p.m. – Appalachian Wind Ensemble (Full concert)
Saturday February 19, 8:00 p.m. – Wind ensemble/Jazz ensemble I

This concert features abbreviated versions of the February 17 and 18 programs and is especially aimed at middle and high school students visiting the 2022 Northwest District Music Clinic.

Sunday, February 20, 1:00-1:50 p.m. (9-12), 2:50-3:40 p.m. (9-10), 4:40-5:30 p.m. (11-12) – Performances by the High School Honor Band Students attending the District Band Clinic of North West.
Face coverings will be required for members of the public and physical distancing is recommended. No ticket is required.
Jazz Ensemble I
Led by Professor Todd Wright, Jazz Ensemble I is made up of nineteen excellent student musicians and, for this concert, guest trombonist Michael Dease.
Jazz Ensemble I will present its complete program on Thursday February 17 and an abbreviated program on Saturday, February 19.
"For decades, Jazz Ensemble I has performed with guest artists as part of the Northwest District Band Clinic," explains Professor Todd Wright. "In the past we have featured artists such as Benny Golson (tenor saxophone), Ingrid Jensen (trumpet), Randy Bracker (trumpet), Steve Wilson (drums), Peter Erskine (drums) and many more. I'm thrilled that the band is collaborating with Michael Dease and that guest students hear his performance.
The program will be chosen from the following pieces, which are the favorites of Michael Dease and Jazz Ensemble I:
Hit the Band – George Gershwin, arr. Samy Nestico
When You Leave – Ray Brown, arr. Geoff Keezer
I'm Glad You're – Jimmy Dorsey, arr. Michael Dease
In a Sweet Tone – Oliver Nelson
Mrs. Garvey, Mrs. Garvey – Jason Marshall
Soul-Leo – Mulgrew Miller, arr. Jason Hainsworth
Two Bass Hit – John Lewis, arr. Michael Dease
See the complete program of Ensemble Jazz I here.
Guest artist: Michael Dease is one of the world's preeminent trombonists, lending his versatile sound and signature improvisations to over 200 recordings and bands as diverse as Grammy-winning artists David Sanborn, Christian McBride, Michel Camilo and Alicia Keys. Dease was among the historic first class of jazz students at the Juilliard School, earning both bachelor's and master's degrees, and quickly established a reputation as a brilliant soloist, accompanist, and bandleader.
Dease recently won Downbeat magazine's 64th Annual Critic's Poll for Jazz Trombonist Rising Star, New York's Hot House magazine's 2017 Best Jazz Trombonist, and is a sought-after lead, section and bass trombonist and three times Grammy award-winning with today's leading jazz. orchestras. He currently teaches jazz trombone and improvisation at Michigan State University.
Appalachian wind ensemble
Friday, February 18 at 8:00 p.m., the Appalachian Wind Ensemble will present an exciting program featuring a variety of wind ensemble pieces. Conductor Dr. John Stanley Ross and Associate Conductor Dr. Jason Gardner will be joined by graduate conductors Cody Arington and Tj Anderson.
See the complete Appalachian Wind Ensemble program and program notes here.
Summit City (2006), Brian Balmages (b. 1975) – This energetic concert debut is based on a single rhythmic cell that transforms on a captivating musical journey.
Recitar, Vesti la giubba (2017), Ruggero Leoncavallo (1857-1919), arr. Jos van de Braak – In this famous aria from the opera Pagliacci, Canio's character laments that he has to go on with his evening performance and play the clown as his heart breaks after finding out his wife is in love.
Vocal Soloist: Praised for his "heroic timbre," Hunter Rogers is a sophomore vocal performance graduate student at Appalachian State University. In addition to his tenor duties in Quintessential! and the opera department, he can be found performing with the Asheville Lyric Opera.
rough sea (2013) Julie Giroux (b. 1961) – This theme of love is the soundtrack to weddings from the epic video game world of Skyrim, depicting engagements in a deadly world of high fantasy and danger.
wingspan (2015), Gary Kuo (b. 1965) – Depicting the magic, majesty and beauty of flight, Wingspan is the debut adventure for solo horn and concert band by composer Gary Kuo, winner of six Emmy awards for his work on the television.
Solo horn: Dr. Dakota Corbliss is currently a Visiting Assistant Professor of French Horn at Appalachian State University. He is a passionate chamber musician, who helped found Vice City Brass, a collective of brass and electronic musicians aiming to bridge the generational gap between past, present and future. Corbliss is also the co-founder of a new band called PIVOT, a horn and saxophone duo dedicated to promoting perspective shifts among their audience.
Lincolnshire Posy (1937), Percy Aldridge Grainger (1882 – 1961) – This suite is in six movements, all based on folksongs from Lincolnshire, England. Composer Percy Grainger's settings not only follow the verse structure of folk songs, but attempt to portray the personalities of the singers whose songs Grainger collected.
His Honor (1934), Henry Fillmore (1881-1956), arr. Frederick Fennell – The title refers to Mayor Russell Wilson, a man who impressed the composer with his sense of humor as well as his executive ability. With its unexpected melodic and rhythmic changes and diverse execution possibilities, His Honor is one of Fillmore's most popular marches.
North West District Music Clinic 2022
The North West District Music Clinic has been hosted by the Hayes School of Music for over 50 years. The clinic includes two college honor bands and three high school honor bands whose musicians are selected by audition from among Alexander, Alleghany, Ashe, Avery, Burke, Caldwell, Catawba, Davidson, Davie, Forsyth, Iredell, Stokes, Surry, Wilkes, Watauga and Yadkin counties.
Students rehearse for several days under the direction of nationally recognized guest conductors, culminating in a performance at the Schaefer Center for the Performing Arts.
The 2022 guest chefs are:
11/12 Senior Music – Colonel Don Schofield
9/10 Concert Band – Todd Ebert
9/12 Symphony Group – Robert Johnston
College Symphony Band – Katie Ebert
College Band Band – Dee Raby
Middle school students rehearse and perform at Watauga High School in conjunction with WHS Band Director Taryn Wooten, who earned her BM Instrumental Music Education from the Hayes School of Music. High school students rehearse and perform at Appalachian State University.
The Hayes School of Music is essential to the clinic weekend. Students from the Rho Tau Chapter of Phi Mu Alpha Sinfonia and the Iota Omicron Chapter of Kappa Kappa Psi perform all the behind-the-scenes work that keeps the clinic running smoothly and efficiently. Middle and high school students benefit from their experience on the Appalachian State University campus, creating memories and developing musicality for life.