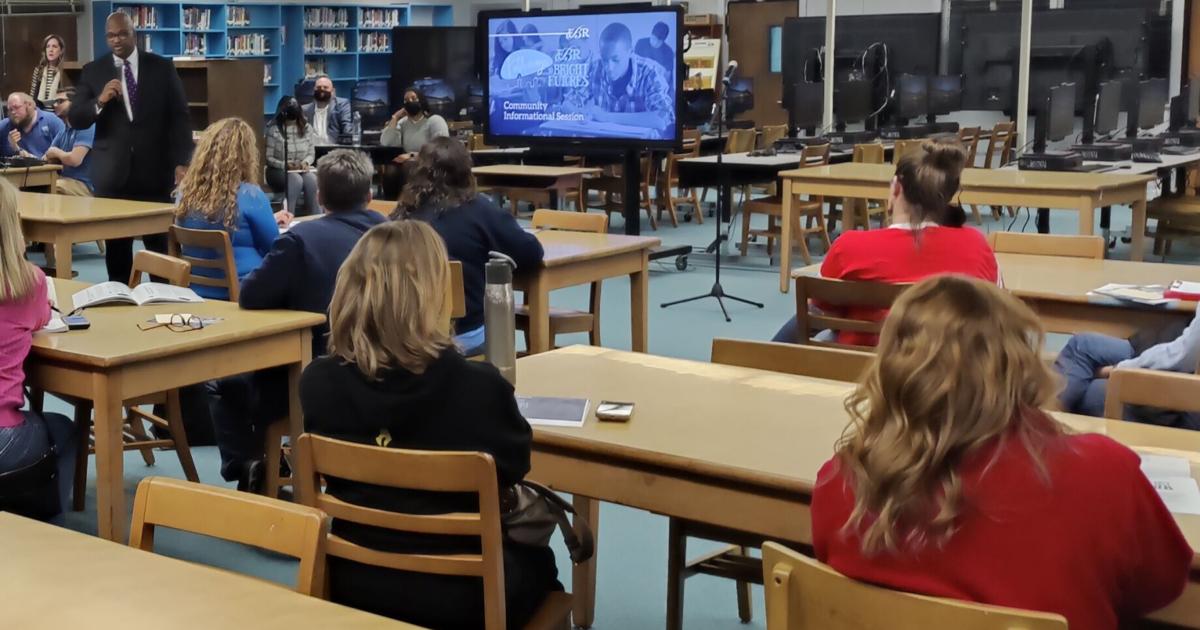 Baton Rouge high schools will require fewer advanced courses; AP treated as a double registration | Education
Superintendent Sito Narcisse has quietly scaled back the lofty ambitions of his plan to turn Baton Rouge's public high schools into precocious colleges, cutting from four to one the number of advanced college-level courses ninth-graders will have to take. enroll next school year.
And this isolated course can now be an advanced level course. Initially, Narcisse called for only requiring dual enrollment offered directly by colleges, a move that has worried educators and parents who prefer PA over dual enrollment.
The overall goal, however, remains to dramatically increase the number of students earning enough college credit to earn an associate's degree or industry-based credential while still in high school.
Earning an associate's degree while still in high school is a rarity. In 2019, only 148 Louisiana graduate seniors achieved this feat.
Narcisse presents a revised version of its initiative, called Pathways to Bright Futures, during a series of seven information sessions. He has already held forums at Northeast and Broadmoor High Schools.
"I know this is going to be a game changer for some people in our community, but the reality is that our job is to speed up, to provide more opportunities for all children," Narcisse said during Tuesday's session in Broadmoor. High.
Five more sessions are planned, including one Tuesday evening at Istrouma High and one Wednesday evening at McKinley High. The final session is scheduled for March 14 at Baton Rouge Magnet High, where many parents have criticized the program.
Narcisse also held workshops in December and January to explain the program to the East Baton Rouge Parish School Board. It's unclear, however, if the board will decide to vote on the initiative or simply step aside and allow Narcisse to move forward.
Mom about the changes
The Narcisse administration has not publicly acknowledged these recent changes from the program's original incarnation. In response to written questions from The Advocate, Chief of Staff Caron Smith did not confirm that these were changes, but did not contradict The Advocate's characterization of them as changes.
Smith answered most of the questions posed during the briefings.
"The requirement is that students take at least one advanced course (every year), but you can take more advanced courses," Smith said. "You are not limited to one."
Smith also clarified that students are now encouraged to take AP classes if they prefer. The district's preference for dual enrollment in the original version of the initiative was a key sticking point with some local educators and parents who argue that many colleges, especially those outside of Louisiana, place more value on coursework. AP only to double registration.
"We don't restrict access to AP classes," Smith said. "We are giving more options to students. If you choose to take an AP course, great. We support you in this. But you also have the option of taking more DE courses than our post-secondary partners will now offer you.
Specialization courses, however, will not be part of this select club.
"We define advanced courses as AP or dual-enrollment courses," Smith said.
drop or withdraw
School officials have publicly acknowledged that the rollback was a key selling point of the program.
At the Pathways to Bright Futures unveiling in December, Narcisse promised that students could complete a full dual-enrollment course and receive a final grade before deciding whether to put the class on their college transcript.
At a January 20 board workshop, it was revealed that this was a "misconception" and was no longer in the cards. Instead, students who don't want their dual-enrollment class grade to appear on their college transcript will have to do what students have always done: drop out or withdraw from the course.
In response to a question from the attorney about this change, Smith said the district is still in the process of narrowing it down precisely.
"This protocol is still being developed in conjunction with our partner post-secondary institution," she said.
At Baton Rouge Community College, which is partnering with the school system in the initiative, the dropout deadline is two weeks into the semester and the dropout deadline is about 10 weeks away. Students who drop out instead of dropping out get a "W" added to their transcript.
BRCC Chancellor Willie Smith said it's a long-standing policy at BRCC that students must drop out or withdraw from a course if they don't want that mark on their transcript. He said he didn't know where Narcisse got the idea that they could complete the course and continue doing it. He said the BRCC could not do what Narcisse was proposing, that it would violate federal law and jeopardize its accreditation.
Access or Mandate
The merits of requiring, rather than simply offering, more advanced courses have dominated the debate on Pathways to Bright Futures. School officials rarely acknowledge that any force is at play. Instead, they have stuck to inviting language, words like "access" and "opportunity," to describe what they do.
At the end of the Broadmoor High reunion, parent Tommy Campbell confronted Narcisse.
"Why can't we get access without a warrant?" Campbell asked.
Narcisse rejected this framing. The superintendent once again insisted that he is simply expanding access to opportunities that many children, especially for low-income families, currently do not have. Narcisse also expressed optimism that Baton Rouge high school students can handle college-level work.
"I fundamentally believe the reality is that kids want more access and opportunities to learn a lot more things," Narcisse said. "It's us, as adults, who sometimes tend to limit them."
Campbell, however, was unswayed.
"'Access' is not the same as 'mandate'," he continued. "You can give everyone access to the AP, dual registration, everything without a warrant."
"I appreciate your comments," Narcissed replied. "We fundamentally disagree on this point."
The Mysteries of Glen Oaks
One area of ​​uncertainty is what is happening at Glen Oaks High School.
The school pilots the concept. In August, at least 70 ninth-graders enrolled in world geography and French lessons taught by guest instructors from Baton Rouge Community College.
Narcisse painted a rosy picture of how things have gone so far.
"About 90 percent of students passed their grades among ninth graders at Glen Oaks High School," Narcisse said at a board workshop Jan. 20.
However, at least 40–50 ninth graders at Glen Oaks High never enrolled in these BRCC classes.
School officials say students who have not taken these classes include transitional ninth graders who have not yet completed their eighth grade requirements, repeating ninth graders, special education in ungraded courses and students who transferred to Glen Oaks too late to add the DCCO courses.
School officials have remained silent about how many ninth-graders at Glen Oaks actually earned college credits in the fall.
Smith of the BRCC told The Advocate that 45 students earned college credit for French and 43 for geography. He said the community college, by his tally, 69% of participating students at Glen Oaks High were successful in earning at least one college credit.
"We want to improve. It was good for a driver," Smith said. "We want to improve.
"We want to make sure we don't set students up for failure," he added.
However, it's unclear why so many Glen Oaks students didn't earn college credit, whether they dropped out or dropped out of the course, or whether their grades didn't reach C, the minimum grade for earning college degrees. credits.
Asked during Tuesday's session at Broadmoor High about the Glen Oaks pilot, Chief of Staff Smith said the district would likely post new information online about the progress of the pilot, but at the end of week, he hadn't done it yet. The lawyer has also requested this information, but has not yet received anything.
Mary Juneau, mother of a child at Baton Rouge Magnet High and another child enrolled in ninth grade this fall, is a vocal critic of Pathways to Bright Futures. On Monday, his attorney filed a lengthy public records request requesting information about the Glen Oaks pilot. According to state law, she was supposed to get some sort of response by Friday, three full business days after she submitted her request, but she didn't.
Juneau said the lack of information about the pilot gives him no confidence that the initiative will work when it is rolled out across the district.
"You can't duplicate a program that's so mired in mystery," she said.