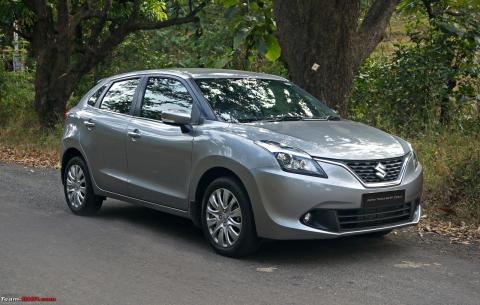 Budget Rs 10 lakh: Need an automatic city car for my family
I researched online and shortlisted several cars like the Maruti Baleno, Hyundai i20 and Volkswagen Polo.
BHPian VK Dhanuka recently shared this with other enthusiasts.
Hi all,
I am looking for my first family car and I need the help of the community to make the right decision.
Fund
I am almost thirty-five years old and have no driving experience. I got a license issued three years ago after taking one of these 10 day and 30 minute lesson plans and then paying an additional "fee" after the driving test. So taking a test drive is not an option for me.
Budget
I am flexible on the budget but don't want to go over 10L OTR unless there is a good deal.
Driving use
That would be for ninety-five percent of city driving – trips to the office (about 10 km round trip) after the end of the WFH, weekend runs and long drives only if I fall in love with the driving to Mumbai. I don't have the confidence to drive on the freeways now, but hopefully that will change and I would like to drive to the nearby outskirts.
Desires / Needs
I want a pure automatic (CVT / DCT / TC) – I plan to keep the car for a long time so I don't want to be stuck with AMT which I might not enjoy in city traffic unless driven manually. [Made up my mind after reading the Mahindra XUV300 thread on the forum]
I want features that make the driver's job easier – Rear view camera with steering, automatic headlights, DRL, automatic wiper (this might not be possible within my budget) etc. so I can focus on the road.
Better if it can comfortably accommodate five people.
I don't want to go out of the big five OEMs – Toyota, Honda, Maruti, Hyundai and Tata for my first car.
I'm not sure if the ground clearance equals higher seats, as I've heard it helps new drivers and is easier on older people as well, so I wish I had it for my parents and I. -same.
Who doesn't want security? But based on my budget and purely automatic requirement, I don't think I have much of a choice.
Fuel type – gasoline
New car list
Based on the above I went to an automotive portal (Carwale) and sorted by price on pure autos and my new car list is:
Maruti Suzuki Baleno – Safety and dimples are the only drawbacks I have encountered.
Honda amaze – I don't have the use of a trunk, so why pay extra with narrow rear seats for three people and if diesel customers are treated badly what makes us buyers of gasoline variants? so special for Honda?
Hyundai i20 – Premium Baleno, less functionality for better interiors. I do not think so.
Volkswagen Polo – I've heard that it has higher maintenance costs, therefore skeptical and probably less features than I can afford from Baleno.
Honda Jazz – I have not encountered any complaints and according to this forum it is my style of car – boring, calm and reliable.
In new cars I can only buy the top Baleno variant without any compromise at 11L OTR, but aftermarket warranty, insurance and basic accessories will stretch it further, which I don't really want.
In used cars I only look at Spinny based on some comments on this forum. Either way, Ola Cars and Cars24 don't inspire much confidence combined with my zero car knowledge.
I could have gone for Yaris / Corolla used listings, but I don't want to go for discontinued BS4 models.
I also want to avoid full-size sedans like the Honda City because I'm afraid I will have a harder time learning to drive with them.
The used Hyundai Creta automatic deserves a special mention because all the used car dealers have such disproportionate ads which made me believe that there is something wrong with this car.
Shortlist of used cars
I have gone through all recent similar threads and been a quiet and active new member of the community and learned a lot in a short period of time. It is an important financial decision for me and I am looking for advice to make an informed choice.
Here is what BHPian neeraj0272 had to say about it:
Since it looks like you need to learn how to drive a car, I would recommend buying a fairly old, inexpensive car first and driving it for at least a year. So buy a new car.

This way you won't suffer a lot of depreciation and you won't damage your new car either.

It takes at least a year of experience to be a 100% safe driver in all conditions.
Here is what BHPian lamborghini had to say about it:
If you could increase your budget, the S-Cross would be a good option.

IMO, you can ignore automatic headlights: it's a simple task – turn it on during the evening hours and turn it off when you reach your destination. You don't need to keep playing with it.

Automatic windshield wipers are certainly a godsend if calibrated properly, but then again, they can be dispensed with: you'll end up using the joysticks to control the gauges etc. activate / deactivate wiper modes accordingly.

Instead, pay attention to the critical aspects: visibility, ease of maneuvering in traffic (CVTs are a bit slow for quick overtaking, and the IMO TC gearbox that the S-Cross has would be easier to drive in traffic because you can use the creep function by modulating only the brake pedal), the vehicle's composure on bad roads, etc.
Here is what BHPian Shreyans_Jain had to say about it:
So for a new and inexperienced driver, I'd rather you buy something relatively inexpensive and sorted, rather than going too far behind features and modes. Buying used cars usually makes a lot of sense in such cases, but small automatic cars are a scarce commodity. Look for used Figo or Ecosport automatic. You will get a very competent, compact and well sorted car at a very decent price, perfect for your needs. It should be your first choice. Ford was the only one to offer 6-speed TCs under 10 liters at the time, and owners tend to keep them. So if you find one, go for it if the car is clean.

If you want to buy something new, go for Tata Punch. Your inexperience and poor running means you won't really be bothered by the AMT, and the car is about perfect otherwise. It's also in your budget. It is well built and will not be damaged as easily as other similarly priced cars. Renault Kiger and Nissan Magnite are two very capable, albeit slightly more expensive, automatics.

I will not suggest Jazz or Amaze. Jazz is too old and Amaze is fragile. The 1.2 iVTEC is a very weak engine anyway. Polo, as good as it is, the car is generally unavailable at this time. If you're lucky enough to find one, there are hardly any discounts. Why pay a high price for a car that will be shut down in a few months, and whose USP is the pleasure of driving? (you don't drive a lot anyway)
Check out BHPian's reviews for more ideas and information.