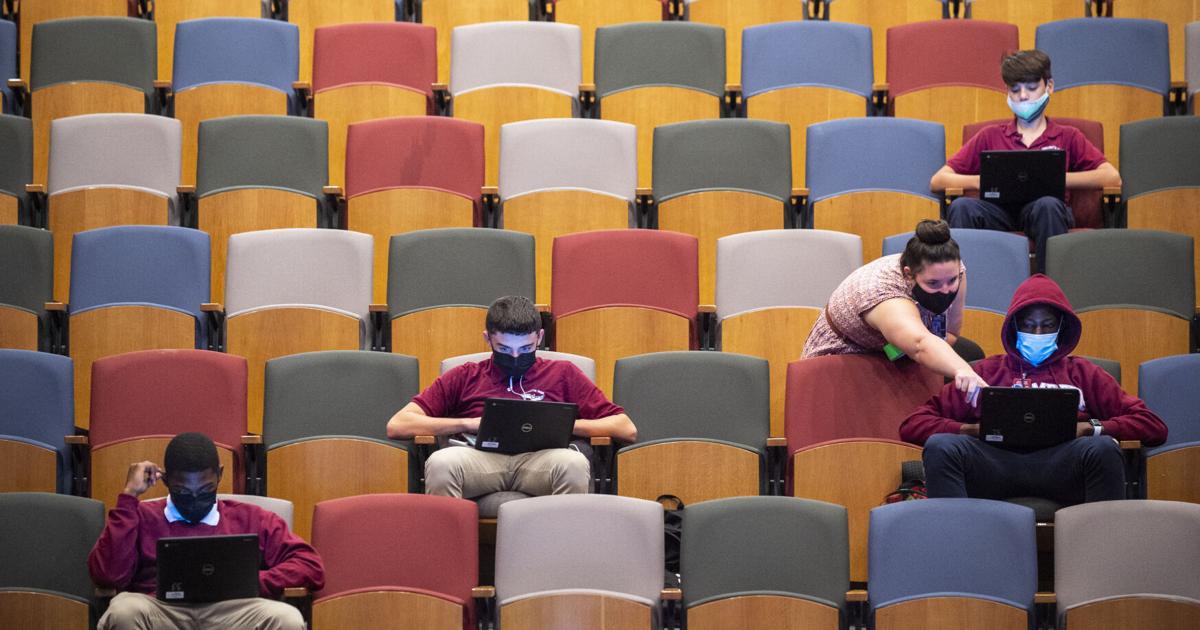 How to make Louisiana better? Improve Schools, Change Rulers, Fix Taxes, Poll Says | Local politics
Of course, there is no quick fix to making Louisiana a better place. Nonetheless, improving primary and secondary education, changing political leadership and changing the tax structure would most likely help, according to The Times-Picayune Power poll.
These three options accounted for 82% of the vote in this week's survey of New Orleans-area thought leaders:
What would possibly make Louisiana a better place?
Better primary and secondary education: 40.2%
Different political leaders: 26.1%
Different tax structure: 16.3%
Other / don't know: 10.9%
Better protection against hurricanes and floods: 5.4%
Better higher education: 1.1%
"Improving our public education system is one of the key variables that is at the heart of the problem and at the heart of many solutions," said Mike Eckert, Founder and President of the NO / LA Angels Network, a group of local investors. "One of these years, I hope that our policymakers take the resolution of this problem seriously and implement a long-term strategy to make the public education systems of our city and state competitive nationally and internationally. Until they do as much of the problems noted in the survey will remain – or get worse. "
"Taxation is paramount, streamlining the way businesses pay taxes, and for individuals removing income tax like all of our neighboring states are doing is necessary for Louisiana to remain competitive," said Christopher Coulon, director of Pivotal RG Solutions, a public and government relations firm.
In New Orleans in particular, crime is the overwhelming challenge. Again, no quick fixes, but the keys to improving public safety are money for law enforcement and improving public education, according to the survey. These two choices accounted for 55% of the votes.
What's the most important way to reduce crime and improve public safety in New Orleans?
Give more money to the police: 34.9%
Improve public education: 19.6%
Other: 18.5%
Specialnd more public money for poverty reduction programs: 11.9%
Spend more public money on vocational training: 8.7%
Spend more public money for economic development: 3.7%
Improve public recreation opportunities: 1.1%
Create tax incentives for businesses to hire more people: 1.1%
Create more government jobs for the unemployed and underemployed: 1.1%
"Better candidates to become police officers, better training, better pay, fill vacancies, better solutions to the next generation of problems," said Bryan Krantz, president of Krantz Commercial Services. "You may need to consider secure perimeters around Bourbon Street, as other cities do in major entertainment areas."
"Investing in better education instead of prisons can help end crime in the medium to long term," said Brenda Murphy, owner, editor and editor of Jambalaya news. "Children deserve more than the system is giving them right now."
Conducted online Tuesday through Thursday, the Times-Picayune Power Poll is not a scientific survey. But because he asks questions to the best influencers of the parishes of Jefferson and Orleans in business, politics, the arts, media, nonprofits, and community affairs, it offers a non-partisan glimpse into the thoughts and opinions of those who run the region. Of the 358 Power Poll members polled this week, 92 voted, for a participation rate of 26%.
In the survey, the first of 2022, we also asked questions about the seemingly unrelenting coronavirus pandemic. Half of those polled believe the New Orleans area is doing better now than a year ago – when vaccines were first available and carnival parades were canceled – and nearly half believe that it will be better in a year.
Given the scale of the coronavirus pandemic, is the New Orleans area better or worse than it was a year ago?
Better: 50%
About the same: 29%
Worse: 21%
Will the New Orleans area be better or worse off in a year?
Better: 48%
Worse: 20%
About the same: 14%
I do not know : 18%
Andreanecia Morris, Executive Director of HousingNOLA, summed up the perpetual series of obstacles facing the region:
"Geographically, we find ourselves in the path of many storms (both literally and figuratively). We seem to constantly recover from a crisis and we never seem to achieve full recovery until the next disaster."
---
The Times-Picayune Power Poll is a partnership between the New Orleans Daily and powerpoll.com, a non-partisan poll, news and information company focused on the opinions of influential people. Powerpoll.com is based in Nashville, Tennessee, and conducts surveys in 29 metro markets.
---