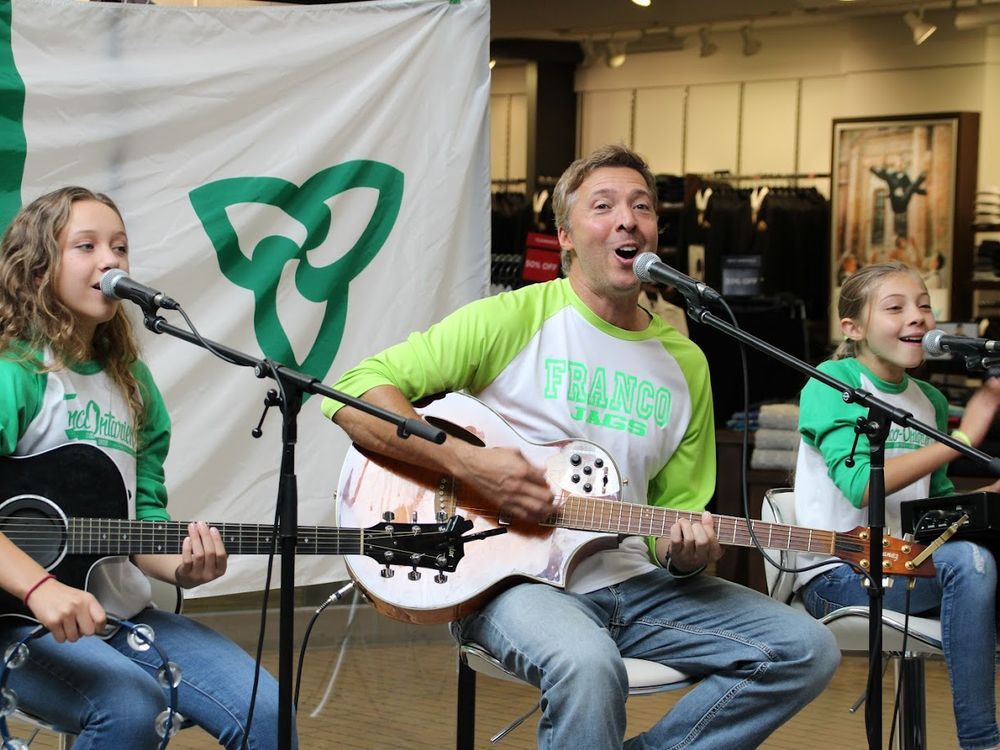 La Ronde hosts the Franco-Ontarian Day celebration in Timmins
Hundreds of French children gather to celebrate their language, their culture
Chanelle Lapointe, left to right, Claude Lapointe and Bella Lapointe perform at the first Franco-Ontarian Day in person in over two years. The event was hosted by La Ronde Cultural Center in Timmins Square and will be one of many thanks to their new partnership with the mall. NICOLE STOFFMAN/The Daily Press jpg, TD

549 students from kindergarten and elementary to grade 4 attended the Franco-Ontarian Day celebrations in Timmins Square. The St-Dominique and Jacques-Cartier Catholic schools took part, as well as the Centenaire, Renaissance and Lionel Gauthier public schools. NICOLE STOFFMAN/The Daily Press jpg, TD

Marie-Claude Dallaire, from left to right, France St.-Jean, and Karine Gagné enjoyed singing "Notre Place" with their students from the École Catholique Jacques Cartier. Paul Demers' song has become the Franco-Ontarian anthem. NICOLE STOFFMAN/The Daily Press jpg, TD

Lisa Bertrand, Executive Director of Center culturel La Ronde, said the entertainment she will bring to Square Timmins this year will allow the entire community to enjoy the beauty of the French language. The center's temporary excavations include an art and dance studio in a former clothing store. NICOLE STOFFMAN/The Daily Press jpg, TD

Thea Bélanger, student at L'École Catholique Jacques Cartier, flies the Franco-Ontarian flag. The flag was created in 1975 by history professor Gaétan Gervais and political science student Michel Dupuis of the University of Sudbury. NICOLE STOFFMAN/The Daily Press jpg, TD

Kaileigh Wayfor, a student from L'École Catholique Jacques Cartier, attends a live performance by La Famille Lapointe during Franco-Ontarian Day celebrations on Thursday. The children had learned the history of the Franco-Ontarian flag in the weeks leading up to the holidays. NICOLE STOFFMAN/The Daily Press jpg, TD
All 6 photos for the gallery
Function not available
Full screen is not supported on this version of the browser.
You can use a different browser or device to view this in full screen.
Content of the article
The Timmins Square mall was filled with French language and songs and green and white colors to celebrate Franco-Ontarian Day on Thursday.
Franco-Ontarian Day was created in 2010 and celebrates more than 400 years of French history in the province, dating back to the arrival of Samuel de Champlain in 1613.
The La Ronde Cultural Center welcomed hundreds of French kindergarten and elementary school children to attend a performance by La Famille Lapointe under the mall's central skylight. The stage was decorated with green and white balloons, the color of the Franco-Ontarian flag, which were suspended, along with a Canadian flag, all around the stage.
Content of the article
"The Franco-Ontarian flag symbolizes pride, because we really fought for our rights to speak French and to be educated in French," said Lisa Bertrand, Executive Director of La Ronde.
"It's so important to pass this message on to our young people, because we can't let our culture be forgotten," she said.
The fight for French education in Ontario lasted a century. The battle initially took place along religious lines: English-speaking Catholics and Protestants against French-speaking Catholics.
The tide began to turn when section 23 of the Canadian Charter of Rights and Freedoms came into effect in 1982, guaranteeing minority language education rights in English and French.
There are now 12 French-language school boards in Ontario. Three French Catholic schools and three French public schools in Timmins participated in Thursday's celebrations.
Content of the article
Before the musicians took the stage in Square Timmins, the 549 children stood up to sing Brian St-Pierre's "Mon Drapeau", the anthem to the Franco-Ontarian flag. The flag was created in 1975 by history professor Gaétan Gervais and political science student Michel Dupuis of the University of Sudbury.
The white lily on a green background represents the global Francophonie. The green trillium on a white background represents Ontario.
The flag was needed to galvanize the Franco-Ontarian community at a time of rising Quebec nationalism, Gervais said in a 2012 interview. The colors were chosen to represent northern forests and winter snow.
Students and teachers also joined La Famille Lapointe on the Franco-Ontarian anthem "Notre Place" by Paul Demers. Claude Lapointe, on guitar, also played "Sourire", by Val-d'Or singer-songwriter Dany Bédard
Content of the article
"One of the reasons I love playing this song is because I can finally see people's smiles now without their masks on," he said.
Lapointe started playing music with her two talented daughters, Chanelle and Bella, after learning to play and sing during the pandemic. When the schools closed and he saw them glued to their video games, he immediately bought them instruments to learn from.
They now sing and tour as a family band, and he is thrilled that he no longer has to leave his daughters behind when he gets a gig. They've had a busy summer and have just returned from gigs in Kapuskasing and Hearst.
The family is made up of proud Franco-Ontarians who speak French at home and don't want to lose their language. The girls were looking forward to playing, noting that it was the first in-person celebration of Franco-Ontarian Day in 2½ years.
Content of the article
"When the Franco-Ontarian flag came out in 1975, it was a historic moment," said Lapointe. "He said we are here to stay."
Chanelle, 13, on acoustic guitar, and Bella, 10, on percussion, will perform at a special event at Full Beard Brewing on October 7. Claude said the owners assured him that performers did not need to be of legal age to play at the brasserie.
Children in the audience had been learning about the flag and its history for weeks, said Stephanie Voyear, a kindergarten teacher at Jacques Cartier Catholic School. She hopes seeing the flag in the community will make them proud of their language and their roots.
"It's important to bring them to this event because it exposes them to their language and teaches them to recognize cultural landmarks — especially in a bilingual city like Timmins, we don't often get that chance.
Bertrand aspires to change that with a slate of entertaining French events in Timmins Square over the coming year, thanks to a new partnership with the mall.
"All our events are for the whole community to share this beautiful French language," she said.