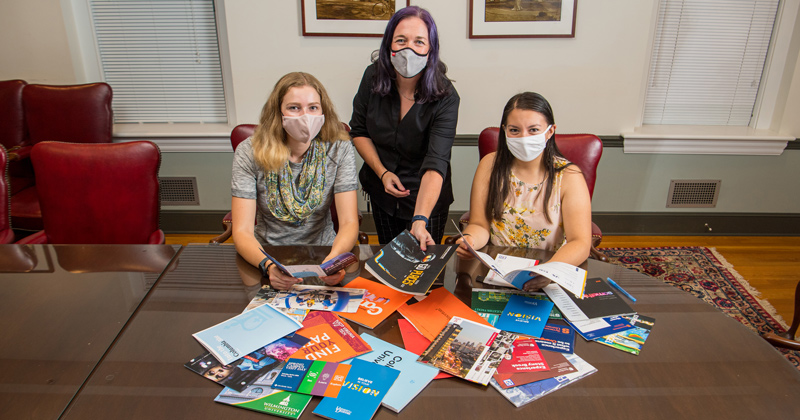 Launch of LASER | U Daily
Article by Diane Stopyra
Photo by Kathy F. Atkinson
September 29, 2021
As a high school student in Spokane, Wash., Amanda Reed viewed standardized tests as many high school students saw as a drag. Disappointment. A tedious step, if necessary, towards graduation.
"They were annoying," she said. "But I never worried about passing."
Then came a dose of perspective. While working as a teacher's assistant in her school's English as a Second Language (ESL) class, Reed was confronted with another reality. For the students of this space, many of whom are immigrants not yet fluent in English, these tests were more than just an annoying task to check before football practice – they were one of the many potential obstacles overwhelmingly. stressful at the start and, perhaps, a college education.
"It really opened my eyes," said Reed, now an honors student at the University of Delaware. "As a white middle-class person, I had never been exposed to some of these issues in the education system. See how much these students wanted to learn, and know that it might not be enough yet? It made me really sad.
The experience crystallized Reed's decision to pursue a study at UD in Spanish, education and race, culture and equity in education. Eventually, she said, she would love to become a teacher, advocating for fairness in the classroom trenches. But she doesn't wait for a career to pick up the torch of social justice.
As an undergraduate researcher in the Community Engagement Initiative's summer scholarship program, Reed spent the summer of 2021 building the LASER (Latinx Space for Enrichment and Research) at the Delaware initiative. Based on a program at Ohio State University that won the Obama administration's Bright Spots in Hispanic Education award, LASER will be sending UD student mentors to high schools in the area. Their goal: to provide the advice and resources that will help young members of the Hispanic / Latinx community pursue an academic career. The program will launch during National Hispanic Heritage Month, which began on September 15.
The effort is working locally to solve a nationwide problem: Historically, Hispanic / Latin people have been excluded from post-secondary education at disproportionately high rates. Problems of classism and systemic racism are in effect, and these problems are compounded for first-generation students. As Reed has seen, members of this community and their guardians may face a language barrier – or they may not be familiar with the U.S. higher education system – and this makes it all the more difficult to navigate. the bureaucratic process of applying to university and finding adequate funding.
Once Hispanic / Latin students are enrolled in college, the struggle is not over. A 2014 study by Rosalie Rolón-Dow, associate professor at the College of Education and Human Development, found that the experiences of individuals in this demographic group on the DU campus reflect the experiences of individuals in this demographic group on college campuses across the country – they face microaggressions, a sense of disconnection and a limited sense of community, among other challenges.
"Laser therefore aims to increase the number of Hispanic and Latin American students on campus until we build up a critical mass," said Meghan Dabkowski, assistant professor of Spanish, Portuguese and linguistics at the UD and adviser to Reed on the project. "The goal is to make everyone feel like part of the community, rather than isolated or invisible."
Reed and Dabkowski, who themselves do not have a Hispanic / Latinx heritage, said they hope that one day LASER will be run primarily by members of this demographic. In the meantime, they recognize the importance of listening and learning from this community. Throughout the summer, Reed researched the perspectives of students enrolled in various Hispanic / Latin organizations on campus.
This work made it possible to flesh out the framework and the content of the program: the coordinators of the student pole (possibly a paid position) will supervise volunteer student mentors, who will go to Newark High School, Alexis I. duPont High School and Las Américas ASPIRA Academy on a weekly basis. For students in Grades 9-12, they will provide information on everything from developing study skills to writing the personal statement required by an application for college admission. In addition, the community days planned on the UD campus will allow aspiring academics to gain insight into university life, while faculty and staff from UD and other higher education institutes in the UD. region will organize workshops for parents in English and Spanish on the financing of this university life.
Simply put, it's "about making the university a tangible experience," Reed said.
For a Latin American student currently enrolled at UD, LASER represents the helping hand she could have used as a teenager. Lucia Pastor, a junior nursing student, is first generation – her parents came from Ecuador to the United States. Because they speak limited English and have never attended college themselves, she said, they were unable to help her find college. Instead, Pastor met various deadlines with the support of a classmate who was – having immigrated from India – in the same boat.
"I had to do a lot of my own research, and the financial component was very confusing for me," said Pastor, who, along with Reed, is co-chair of LASER. "I like that this program helps people feel less alone in this process. I hope we can reach a large audience and let them know: higher education is possible, and there are resources to help you make it happen.
One group that LASER specifically hopes to reach is the undocumented community. People in this demographic face perilous barriers to higher education, whether financial (40% live below the poverty line and federal support is unavailable) or psychological (fear of deportation leads to compromised mental health). Since these students are often flagged by a college admissions office as international, they are required to provide additional documentation, such as proof of language proficiency, even if they have lived in the country since childhood. LASER representatives hope to liaise with these offices on behalf of individual applicants, to help mitigate institutional challenges.
"It can be a very difficult road, and there are no good solutions," said Dabkowski. "But we're trying to find ways to help mitigate that – to help make education more accessible – so that we kind of force the system to fix this problem."
Many who hear about LASER's work may mistakenly characterize these efforts as purely philanthropic, but the organizers have a different perspective – it's not just about helping those in need. It's about helping everyone.
"It's not just charity work," Reed said. "As the United States diversifies, our college campuses must reflect that diversity, because if we don't, we are missing out on the contributions of millions of people – contributions that will make our communities and our country stronger. "
A potential benefit of LASER for all populations at DU is a greater opportunity for cultural humility.
"It means not only learning about another culture, but using it to reflect, make personal criticism and recognize prejudices," Dabkowski said. "It's about understanding that your culture is not the default. "
As LASER leaders work towards this vision, they feel gratitude for the many units in the DU that have provided assistance, including Honors College, Office of Undergraduate Admissions, Office of Equity, of Diversity and Inclusion and, in particular, the Community Engagement Initiative, which aims to help faculty and students on campus apply their research for the betterment of society. Although LASER is now a registered student organization, the program will be looking for a permanent home, potentially in one of these units, in the near future.
In the meantime, those who want more information on the LASER cause can visit the program's website.
"We are always actively recruiting student mentors," said Reed. "Anyone from any background is welcome. If you are passionate about seeing a more diverse community on campus, we want to work with you.