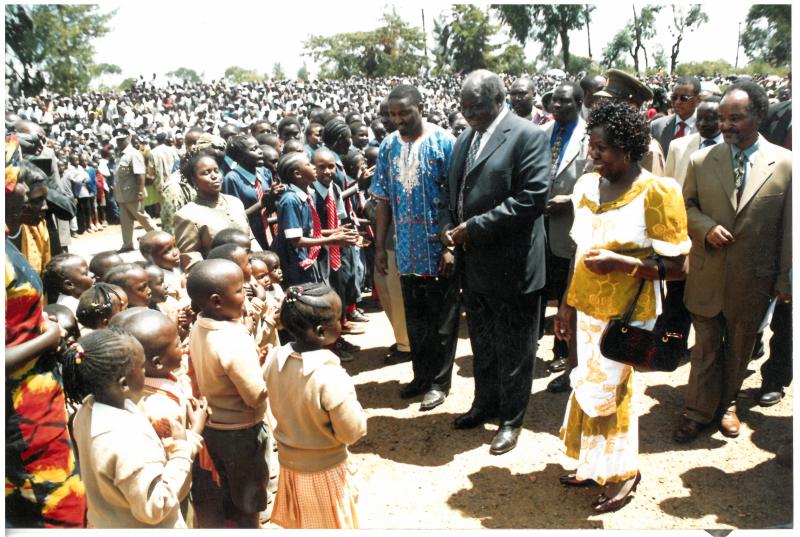 Mwai Kibaki's Legacy: Education Reforms Driven School Enrollment Rates
The late President Mwai Kibaki will be remembered for his contribution in the education sector from kindergarten to university.
Just three months before stepping down from power in 2013, Kibaki said he was proud of the education sector reforms undertaken during his 10 years in office.
"We are especially proud of the significant gains made in providing education to our people," he said at the launch of the first Columbia Global Center in Africa in January 2013.
The statement summarized Kibaki's efforts to improve the education sector, through sweeping reforms that have expanded access to education for all.
The most notable achievement of Kibaki's first term was free primary education which was introduced on January 6, 2003. During his second term, he introduced tuition-free secondary education in public schools.
In the first year of deployment, more than one million children attended primary schools. The emphasis on school uniforms has been relaxed as the government has provided school supplies and textbooks, easing the burden on parents.
Primary schools saw over 80% of children enrolled. During his first term, enrollment grew from 5.9 million to 8.2 million in 2007. "This [FPE] has seen the level of primary school enrollment rise from five million in 2003 to over eight million students today (2013)," he said in 2013.
In 2020, the total enrollment in all public primary schools was approximately 10.2 million.
Professor Obonyo Digolo of the University of Nairobi said Kibaki should be credited with major education reforms. "He made some very good decisions for the sector, some of which have been implemented by the current regime under different names such as 100% transition," Prof Digolo said.
He said that at the level of basic education, Kibaki came up with two critical documents that streamlined kindergarten education. "While the expansion of universities was noble, it also watered down quality as most institutions continued to duplicate curricula," Prof Digolo said.
Dr. Kilemi Mwiria, former Deputy Minister of Education, said then that free primary education became the motivation to expand secondary education. "So the introduction of subsidized secondary education in the form of day schools dotting virtually every sub-location," Mwiria said.
Kenya has also introduced a free secondary education program where the government pays school fees while parents cover other costs.
To date, the government continues to provide a capitation per child of approximately Sh1,420 per primary pupil and some Sh22,244 for each secondary pupil.
The Kenya Union of Post Education Teachers (Kuppet) said they will remember Kibaki' for his love for education.
"Along with expanding access to education, his administration implemented far-reaching reforms in school management and addressed teachers' working conditions," said Akello Misori, general secretary of Kuppet. "Kuppet earned his respectable position during the Kibaki era."