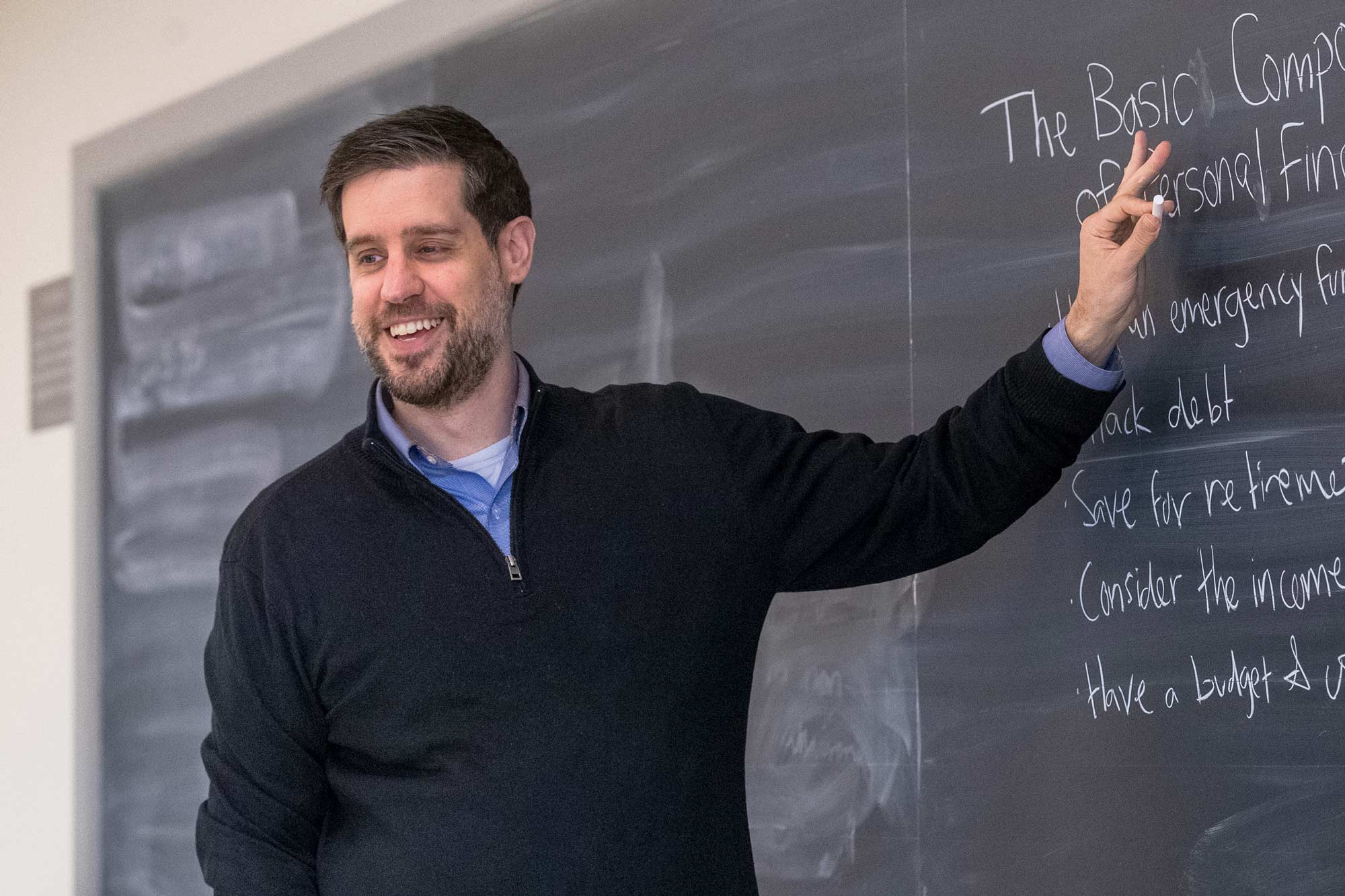 Professor Batten helps future grads get their finances in order
Are graduate students ready to manage their personal finances? Andrew Pennock, an associate professor of public policy at the University of Virginia's Frank Batten School of Leadership and Public Policy, wants to make sure they are. He offers an annual Financial Wellness Workshop, which he leads in addition to his regular teaching workload.
On March 30, approximately 70 AVU students, graduates and undergraduates, attended his final workshop. In addition to financial skills, the workshop had a particular focus. At a university where students are encouraged to be leaders inside and outside the classroom, participants were asked to think about how to spend in line with their values.
"Personal finance is a life skill that empowers you to make intentional choices that reflect your values," Pennock said. "This is true for both your spending and your giving."
Pennock started the workshop in 2017 when, while teaching his state politics class at the Batten School, he briefly compared state budgets to personal budgets. Sensing the confusion, he probed and discovered that most students had never seen a budget. This led Pennock, who had spent years discussing personal financial management with various community groups, to create an opportunity for students to discuss a topic typically avoided: money.
Students today report that financial management creates anxiety and confusion. One attendee told Pennock that setting and tracking a budget was overwhelming, and instead the student just tried to spend as little money as possible.
Yet many students recognize that avoiding personal finance is unrealistic. They hope to have a stable income after graduation (potentially for the first time) and want to learn how to manage their resources responsibly.
"One of the points I make is that starting up is an exciting time because they can establish a culture for themselves on the allocation of their money," Pennock explained. "They can practice their values ​​through their spending and giving."
AVU students across Grounds have shown an interest in learning the basics of finance. While many Batten students signed up for this workshop, students from outside the Batten school, who did not meet Pennock, also attended.
"Less than 20% of students in the class say they sat down with their parents and discussed their parents' budget, so they're hungry to know what's coming next," Pennock said.
Students came in with questions about setting financial priorities and understanding how a personal budget works. They wanted to know what choices they would have to make in the future.
"Professor Pennock gave us a spreadsheet that helps you keep track of what you're saving for," said Emma Karnes, a master's student in public planning who took the course last March. "I already knew the importance of having savings, but I learned the different ways to plan and categorize your savings."
Pennock approaches the workshop as an advisor drawing on his own experiences and research. His workshop focuses on industry standard advice and synthesizes it for easier understanding. Topics covered in the 90-minute seminar include:
Have an emergency fund. Pennock recommends that three to six months of expenses be available in cash and explains why this is important.
Tackle debt. The class discusses different types of debt, debt consolidation, interest rates and residential mortgages.
Saving for retirement. Students are introduced to different types of retirement savings accounts and matching programs with potential employers.
Buy the right insurance. Course participants are encouraged to think about what insurance they need and when, including life insurance and renters insurance.
Consider the income side. Pennock encourages students to find gainful employment based on their financial goals and suggests that a side career or paying hobby can sometimes be helpful.
Have a budget and use it. Good financial management requires discipline, and students discover the power of good budgeting and tracking.
"I think Professor Pennock is a good person to teach this workshop because he's not afraid to tell it like it is," Karnes said. "It helps students deal with their leadership anxieties in [his course at Batten]so I think he's ready to do that as well when it comes to personal finance.
Pennock emphasizes that financial management requires continuous learning. He encourages students to continue learning about personal finance by reading books and visiting sites (like Mr. Money Mustache) or forums (like Bogleheads.org). He recommends planning finances in community with family members or a spouse, and with the contribution of friends. And he's always focused on giving back.
"UVA students and faculty have received so much," he said. "I think it's important to be as grateful as possible and to express that gratitude through generosity to the people and places we care about."