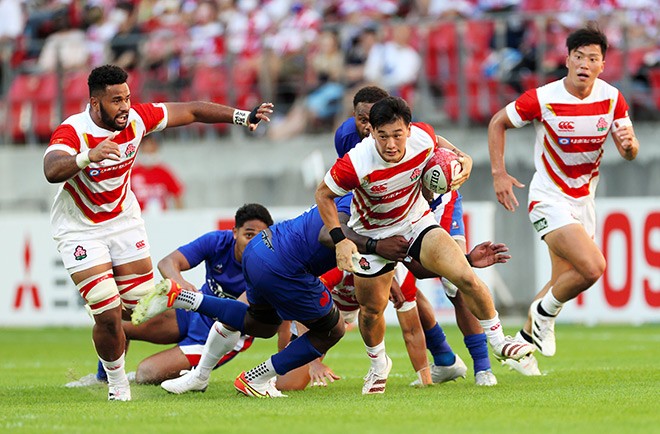 RUGBY/ Lee brings pride of being an ethnic Korean to the Japanese national team
Lee Seung-sin not only carries the ball for Japan's national rugby team, but for ethnic Koreans in the country.
One of Japan's rising stars, the 21-year-old Kobe native hopes to be an inspiration to the Korean ethnic community.
"I also have a Japanese common name, but I want to be proud of my ethnic name throughout my life," said Lee, who has South Korean nationality.
"Many ethnic Koreans use common names in their social life. But if I can make a career as Lee Seung-sin, my original name, in the Japan national team and in Japanese society, I think it will encourage ethnic Koreans from different walks of life.
A graduate of Osaka Korean High School, Lee is the first alumnus of a school for ethnic Koreans in Japan to be selected for the Brave Blossoms.
FAST CLIMB TO FIRST CAP
Lee participated in the Japanese High School Rugby Championship as the captain of the Korean High School team in Osaka while a third-year student there. He was also selected to play in Japan's national high school team and Junior Japan, a team of players in their mid-twenties.
After graduating from high school, Lee went on to study at Teikyo University, a rugby powerhouse, but dropped out during his second year looking to play overseas. But that hope was dashed by the novel coronavirus pandemic and he joined Japan's top-flight rugby league earlier than many of his contemporaries.
Lee was named a starter in the 2021-22 season, his second year with Japan Rugby League One Division 1 side Kobelco Kobe Steelers.
His style of play caught the attention of Jamie Joseph, head coach of the Japanese national team, and Lee joined the national team in late May.
According to Osaka Korean High School, Lee is the first alumnus of a school for ethnic Koreans to be selected for Japan's national rugby union team, which has no age or other restrictions.
"Since my high school days, I had dreamed of contributing to the Korean ethnic community," Lee said at a national team camp in Miyazaki in June. "I will be happy if I can give hope to as many people as possible and encourage some to try rugby."
Lee earned his first cap as a member of the Japan national team on June 25 when he replaced the starting clash Takuya Yamasawa in the second half of a test match against the Japan national team. 'Uruguay.
In a test match against the France national team on July 2, Lee unexpectedly started as Yamasawa, who was in the starting lineup, was sidelined after being infected with the new coronavirus.
DRAWING STRENGTH FROM ETHNICITY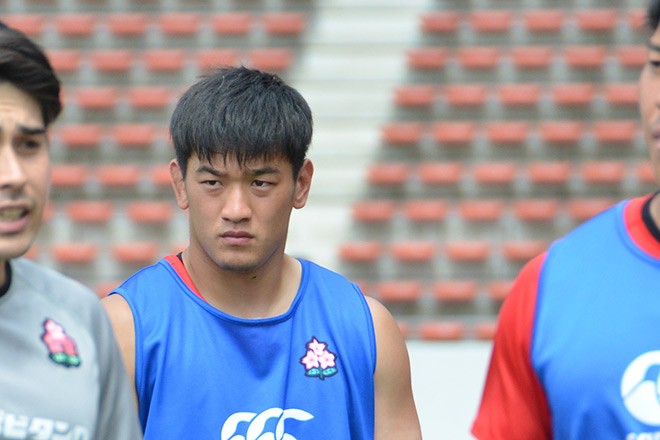 Lee attended schools for ethnic Koreans as early as his kindergarten years. Influenced by his father and his two older brothers, he started chasing the oval ball from the age of 4.
He learned about the origins and history of ethnic Koreans growing up.
"I had the opportunity to discover our identity or why we are different from others," Lee said. "I have clear ideas about how we should be and how we should live. Maybe it shows in my strength as a rugby player.
During a press conference to announce the members of the national training team, Joseph, the head coach, said that Lee had a hungry spirit and had always made it known that he was looking forward to wear the national team jersey.
Lee said he had longed for a "cherry blossom jersey", rather than a spot on the South Korea national team.
Etched in his childhood memories are images of Hirotoki Onozawa, who cut an impressive figure as a quarterback three when the Japanese national team was not yet able to successfully compete against top teams. of the world as it does now.
Lee's 'envy' turned into a clear goal when Japan hosted the 2019 Rugby World Cup, with Kobe being one of the venues. Lee saw firsthand how the Japanese national team qualified for the quarter-finals.
"It shocked me more than anything," he said. "It led me to embrace a strong desire to be myself on that stage."
Lee said he never found life difficult as a member of his ethnic minority.
"Honestly, I've never been discriminated against," he said. "Reports say that some are prejudiced thinking that (the Japanese) don't get along (with the South and North Koreans). But I was lucky with the people around me. People were nice to me when I was at rugby school.
The stand-off, also known as the fly-half, makes important decisions in the game. Competition for the key national team position will intensify ahead of the World Cup to be held in France next year. next.
In addition to Yamasawa, Lee's rivals include Rikiya Matsuda and Yu Tamura, who both competed at the 2019 World Cup in Japan.
Japan lost to France 42-23 on July 2. The Brave Blossoms will face the French national team again in another test match at Tokyo's National Stadium on July 9.