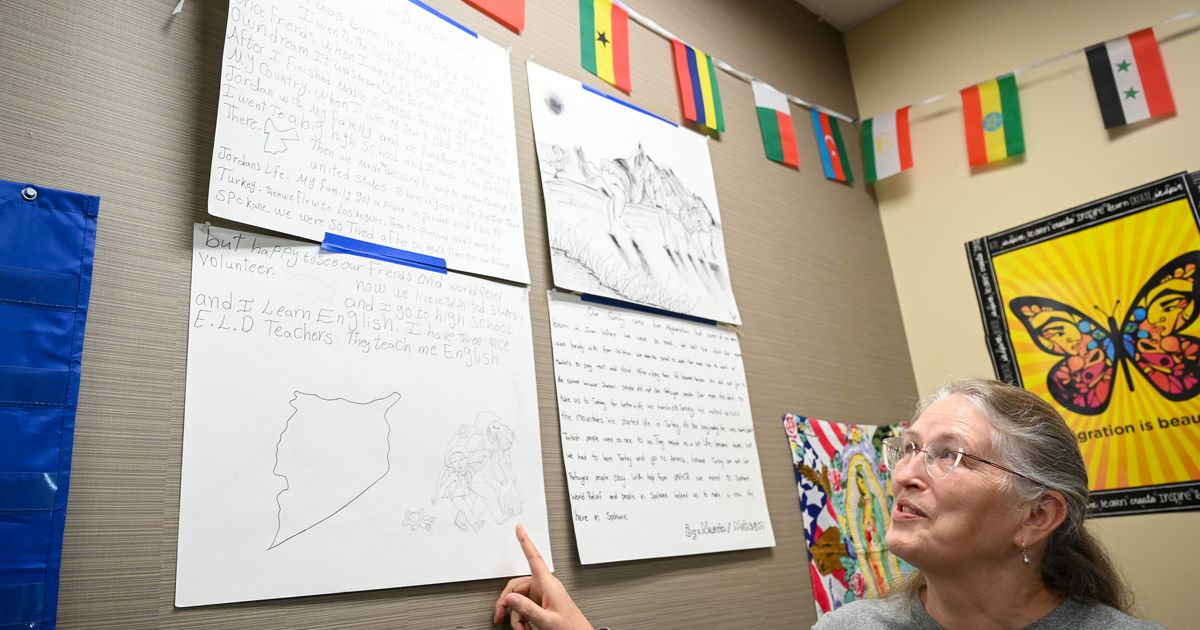 Shawn Vestal: Stories of immigrant students in Spokane share their struggles and triumphs
When Fedja Zahirovic fled with his family from the Bosnian War to Spokane in the 1990s, he was "confused and angry", uprooted from everything he had known and knew neither the language nor the culture.
The first steps in his American education took place at the Newcomers Center at Ferris High School.
"It was a safe place," he said this week. "It was a good place to learn.
And when Abdulrazik Mohamed arrived here with his family in 2012, fleeing civil war in Sudan and years of living in refugee camps, the first steps of his American education took place at the Newcomers Center in Ferris.
"The support has been fantastic," he said. "They really tried very hard and supported us in all aspects."
And, in the days to come, as hundreds of Afghan refugees arrive in Spokane, the teens among them will also begin their American education at Ferris High's Newcomers Center, laying the foundation for their new lives in Victorya Rouse's classroom.
For nearly three decades, Tory Rouse has taught English to young people who have been driven from their homes by war, conflict and disaster.
"Some of them already have some English," she said. "Some of them don't. And some of them don't even have the same alphabet.
All receive Rouse's crash course in English, the foundation on which they will get an education and build a future. Additionally, they enter the family atmosphere of the classroom, where Rouse helps them bond with each other, mentor newcomers, and elevate each other.
"We always say, 'We are family here,'" she said. "'You have to take care of each other like brothers and sisters.' "
The wide range of experiences students bring to her class is reflected in a new book she has compiled and edited, "Finding a Refuge: Real Immigrant Stories from Youth." The book is a fascinating look at the lives of young people who fled their homes to start a new life here.
The stories in Rouse's Book do what all great stories do: connect readers to experiences outside of their own, expanding their understanding of the world, their community, and their fellow human beings. They replace simplified narratives with the specific realities of particular people.
This includes accounts of hardship and suffering, but also how these young people established new lives as Americans – sometimes facing different kinds of hardship here, too.
For example, a student wrote that he fled an impoverished life in Eritrea to Ethiopia at the age of 9, lived in a refugee camp there for years and was finally arrived in America at the age of 15.
"In America, I lived with a host family," writes the student, identified by her first name Uwam. "They didn't speak my language and I didn't speak their language. I think I cried for three months. I started school and started learning English and everything students need to learn in school. I made myself some friends. Life just got easier.
'English all day'
Understanding the experiences of these students is especially important for us in Spokane, given the history of our host city for refugees and their integration into the community – a dynamic that began after the Vietnam War, as that refugees from that part of the world with ties to the Spokane military community have settled here.
Rouse grew up in Minnesota and Illinois and began her teaching career as a Peace Corps volunteer in the Kingdom of Swaziland (now Eswatini) after college in the early 1980s. In this role, she is became convinced that English skills were a crucial foundation for her students to learn, and decided that she would return to Africa to teach English again.
"I actually left Africa on a return ticket," she said. "But then I got married, I had a child, then my husband got a job in Spokane."
She changed her plans one way, but not another: She remained committed to giving students the language skills they need to learn and improve their lives.
She taught for a year at Shadle Park High, then moved to Ferris in 1992 to teach English as a Second Language – now called English Language Development. She has been there since, except for two years when she tried an administrative position.
The Newcomer Center is the district's program for high school immigrants and refugee students; Once they have developed strong English skills, they return to the general student body of their neighborhood school.
Over the years, his students have come from parts of the world where there is the most conflict. In the early years, these were students from Vietnam and Southeast Asia, as well as the former Soviet Union. These days there are plenty of students from the Marshall Islands, Syria, Iraq, and Africa – with a contingent of Afghan students en route following the withdrawal of US troops there.
Zahirovic remembers his classmates in the 1990s as coming from Ukraine, Mexico, Ethiopia and Taiwan – "very multicultural".
All high school ages and abilities are taught in the classroom, and students operate at different skill levels.
"We take differentiation to a whole new level," said Rouse.
The basic idea is to immerse students as much as possible in English, to integrate them quickly into other lessons and to encourage them to help each other.
"It's metal pedaling, English all day, until they get a little bit bored of it," she said.
"I feel like an American"
Rouse's classroom reflects the relationships formed there. A portrait of Queen singer Freddy Mercury – one of Rouse's favorites – hangs on the wall, a gift from a student who also painted a pencil portrait of Rouse. Newspaper articles about a former student who became a star in athletics hang on the wall, as do other memorabilia.
And the links last beyond the end of the course.
"I don't forget my students," Rouse said. "If I meet someone at Home Depot, I'm like 'Yes! You are my child! ' "
Sometimes his students were torn from a life of relative comfort and success to arrive impoverished in a new country. Other times they arrived here after years and years in refugee camps – sometimes moving from one to the other over and over. While it might seem like it would be difficult for them to think about school, Rouse said her students are often highly motivated.
"Most of them strive to excel in school," she said. "It's a place where they can reduce the clutter of their lives and focus on academic success. "
Rouse was encouraged to post "Finding a Safe Place" by a friend of her sister's who works in publishing. Some of the material was revised based on the work students did in his class, others were written for the book. She helped edit and shape them, and wrote an introduction and afterwards, as well as an introductory chapter on the countries the students came from.
Its idea is not to profit from the work of the students; she said she intended to use the proceeds from the sale of books to contribute to an organization or program that helps refugees.
There are stories from all over the world. Sudanese refugee Abdulrazik Mohamed wrote that he fled Sudan after the death of his grandfather and spent years in refugee camps.
Qali, who is only identified by her first name, as are other students in the book, wrote that she arrived here from Somalia in 2013. Her father was shot dead by a terrorist when she was 4 years old. years.
"People were screaming and crying all around us," she wrote. "We were all in shock. There were gunshots and fires. Houses were burning and people were dying. We didn't have time to stop and pack the things we needed; we just ran for our lives. It was the Somali civil war.
Many stories are equally poignant, but Rouse didn't want to miss the next chapter of those lives – which happened after the refugees arrived here and started a new life. Stories therefore have epilogues, telling stories of graduation, marriages, new jobs and dreams of starting a business.
"In 2018, I became an American citizen," wrote Amir, who fled Libya with his family in 2013. "In the future, I want to have a good job and help others as people have helped me.
Zahirovic, who came here from Bosnia in the 1990s, found that some of the same divisions that underpinned the civil war in the former Yugoslavia were still a conflict here. He came from a mixed family – his Muslim father and Greek Orthodox mother – and many Bosnian Muslim refugees were not very friendly here, he said.
Although he feels like an outsider, he finds himself spending more time with Americans. He graduated from Ferris and then from Spokane Community College. He eventually changed course and studied music in Portland, where he now teaches.
He married an American and became a United States citizen. Her mother and grandmother returned to the Balkans, settling in Montenegro. He speculates that after his retirement he might split his time between countries.
Mohamed, after graduating from Ferris University and Eastern Washington, continued his graduate studies in International Relations and African Diaspora Studies at Florida International University. Education was one of his father's main goals for his seven children, and they did it here – graduates of Ferris, Rogers, and West Valley High Schools, and universities in Eastern Washington, West Washington and Washington State.
Several of them made their debuts at the Newcomers Center.
"I had five," Rouse said.
Today, nearly a decade after arriving here, Mohamed said, "I feel like an American. "
"Getting my citizenship has been the greatest feeling – one of the most exciting experiences," he said.