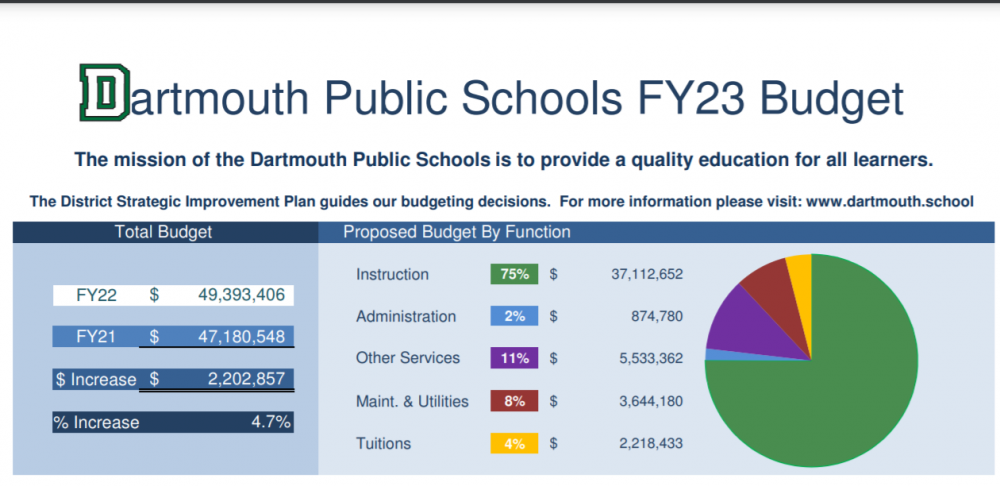 The school committee adopts the school budget for the next year
The school board on Monday passed a proposed budget for the upcoming fiscal year that would increase spending by $2.2 million — or 4.7% — from fiscal year 22.
The $49.4 million proposal will now be sent to the select board and finance committee for review and approval. The three councils are due to meet jointly on May 9.
The largest increase in spending came from the instruction category, which accounts for 75% of the total budget and includes funds for teacher and school staff salaries, technology, books, supplies, special education, etc
Of the $1.9 million in budget increases for teaching, classroom staff accounted for $1.5 million, with much of the increase coming from increases obtained during contract renegotiations.
The increase in spending also reflects the creation of some new positions, including: two directors of teaching and learning to replace the assistant superintendent, a new teacher at Quinn Elementary, and a certified behavior technician.
While the 4.7% budget increase isn't as extreme as the national inflation rate – which hit a 40-year high in February at 7.9% – it could still cause problems budgets for the city, as all municipalities in Massachusetts are limited to 2.5% per year. The budget from year to year increases according to proposition 2½.
However, Deputy Superintendent of Finance and Operations James Kiely said his preliminary discussions with city officials were promising and he hoped the budget would pass.
"Through my discussions with the administration and the city, we spent a lot of time talking about it and they were very supportive of us," he said. "So hopefully the boards will follow suit and support us financially through quite a difficult time."
During the budget discussion, members of the school committee suggested changes, including removing parking fees for students.
Kiely says waiving fees would cost the school $15,400 in lost revenue.
Removing the $60 parking fee has long been championed by former student Christian Gwozdz-Silveira and has received support from members Kathleen Amaral and Chris Oliver. However, member John Nunes disagreed with his colleagues, saying "parking is a privilege" for students.
Committee chair Shannon Jenkins noted that the proposed budget would already remove fees for students to request and send their transcripts to future colleges, which she said was "far more deeply problematic than parking fees." ".
She said with the removal of the transcript fee burden for students this year, parking fees could wait to be removed later.
The board also briefly touched on the uncomfortably high number of staff currently being paid, at least partially, with federal Covid relief funds.
Kiely said 16 staff members are being paid from the one-time grants — which are due to expire no later than 2025 — meaning the district could soon find itself with tough decisions about how to maintain those positions.
"We are certainly concerned about the impact this is going to have on us moving forward," he said. "Because it's a lot of money and it's going to disappear."
The proposed budget is available on the school's website, here. A summary can be found here.