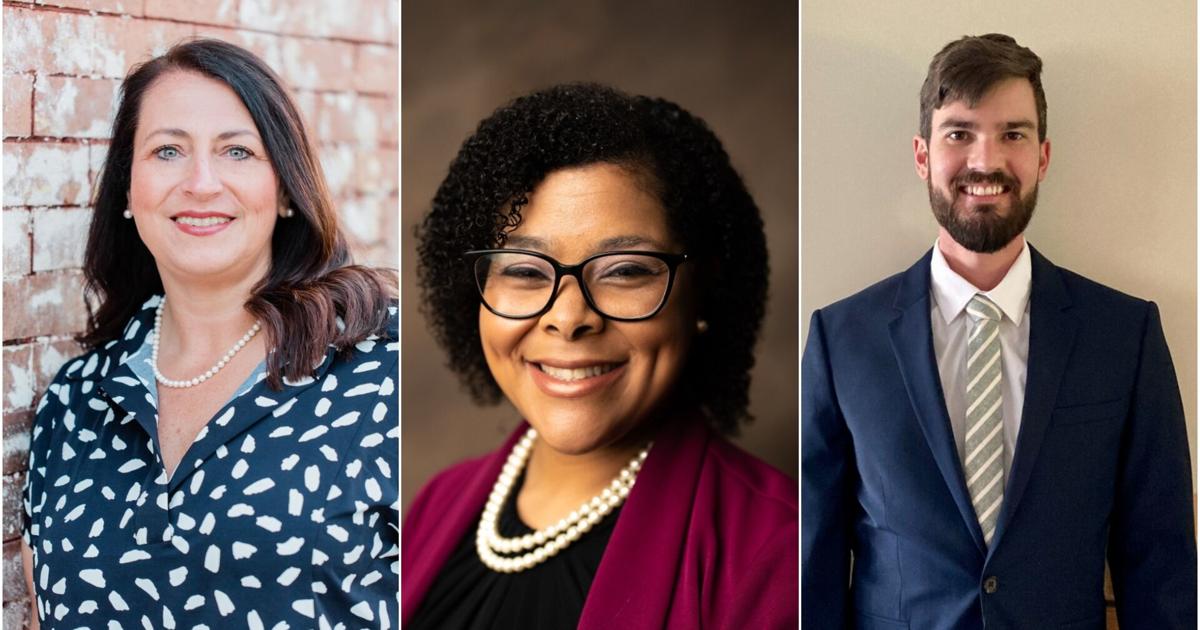 Three local managers named semi-finalists for Louisiana Principal of the Year | Education
Three Acadiana-area principals are being celebrated for the mark they left on their schools after being named semifinalists for Louisiana's 2021 Principal of the Year.
Each year, the Louisiana Department of Education honors principals and teachers through recognition programs.
This year, Angela Godwin of Eaton Park Elementary in Abbeville, Nicole Morrison of Leonville Elementary in Leonville and Christopher Shirley of Stephensville Elementary in Morgan City were among 24 administrators named semi-finalists in the competition.
The principals each said they view the recognition as a win for their entire team, as they view themselves on equal footing with their larger school teams; the success they achieved did not happen alone, they said.
Although humbled by the moment, the directors said it was also invigorating.
"It just put a lot more gas in my tank," Godwin said of the accolade.
Angela Godwin, Eaton Park Elementary in Abbeville, Vermilion Parish
Teaching runs in Angela Godwin's blood.
Her mother and other family members were teachers, and Godwin said she also felt called to teach from an early age. She got into tutoring as a child and after a challenge semester at what is now the University of Louisiana at Lafayette, she embarked on her teaching career, she said.
Godwin ran Eaton Park, a K-2 school of about 460 students, for six years. She has described the school as a hidden gem and credits her wholeheartedly joining the Leader in Me program for building a foundation of leadership, respect and effort. In the fall of 2021, the school was recognized as a Leader in Me Lighthouse Certified School.
The director said she personally strives to bring out the best in others.
She works daily to empower students by ensuring that everyone takes responsibility for the school, whether through morning announcements, tending to the school garden or as class leader. Godwin said she also encourages staff, seeing herself and all employees as equals and creating opportunities for all team members to show leadership.
The Eaton Park principal said the strong school culture is evidenced by the school's high retention rate. Consistency in staffing makes a difference for students, which is especially important now that schools across the country are grappling with teacher shortages, she said.
"We have a chance to nurture these little ones and meet all of their needs, be they physical, emotional, social, academic – the whole child is considered when raising them. I feel that's my calling from God, and it's to get others to see the same vision and come on board," Godwin said.
Nicole Morrison, Leonville Elementary in Leonville, St. Landry Parish
Nicole Morrison's path to a career in education has been less clear.
Morrison, a graduate of Northside High, began serving as an assistant softball coach at her alma mater while earning an athletic coaching degree from UL. While waiting to return to school for her masters, she was asked to cover a physical education lesson for a teacher on maternity leave and she was bitten by the teaching bug, she said .
When she returned to UL, it was to earn a degree in elementary education, which she followed with a master's degree in career education and a doctorate in instructional leadership.
Morrison spent most of her career in the Lafayette Parish school system, moving from teaching on the board to leading the district's family literacy program before moving to Leonville Elementary, where she served as principal for four years.
Morrison said she prides herself on being a good listener, going into the trenches alongside her team and raising as many staff members as possible into leadership positions through school committees.
Leonville Elementary serves 640 children from kindergarten through eighth grade. Morrison said she has worked hard to bring the community to the school and encourage engagement, not only from parents, but also from businesses, civic groups and local government by attending local meetings and exercising a open door policy for everyone.
These close relationships are a point of pride, she said.
"I understand that this school is the center of the community and there is a lot of pride when it comes to the school. I believe it is important to get feedback from all stakeholders, in terms of the vision and where we are going as a school, and the ways we are trying to grow. … We want to make sure that our kids leave us not only prepared for high school, but also good kids," Morrison said.
Christopher Shirley, Stephensville Elementary in Morgan City, St. Martin Parish
Christopher Shirley's journey in education and administration also relied on getting things right at the right time.
Before graduating from LSU with degrees in philosophy and French, Shirley had no plan. When he graduated, the Morgan City native fell into a position teaching French at Franklin and saw the power of teachers to create positive change in the lives of students.
He embarked on a career in education, earned his teaching certificate, and then pursued a master's degree in instructional leadership. After a year of teaching at Stephensville Elementary, the outgoing principal recommended that she apply for the position. At 29, Shirley says she is intimidated, but he takes the leap.
Shirley has now run the school for four years. Stephensville serves about 130 students in kindergarten through eighth grade, with an average student size of 12, he said.
"You really get to know the people you teach, you get to know the families you serve. Children can't hide when you can really see through them because you've known them for so long, and that's pretty powerful. It's knowing how to help kids avoid the mistakes you know they're about to make. It's always great fun. You can develop stronger bonds with children and motivate them to make better decisions," Shirley said.
The school is a model of transforming small class sizes for children, but the headmaster said he was confident they would work well even with a larger population because of the experienced staff and culture of trust and helpfulness on campus.
Shirley said he sees himself in a supportive role on campus, empowering teachers to make their own decisions and step in to provide what is needed to achieve the best possible learning and growth outcomes, whether it's about getting new supplies or sitting down with a child. -a.
During his four years as principal, the Stephensville leader said he was particularly proud of the way they invested in the whole child by increasing daily physical education time and creating an environment where learning is celebrated and cool.