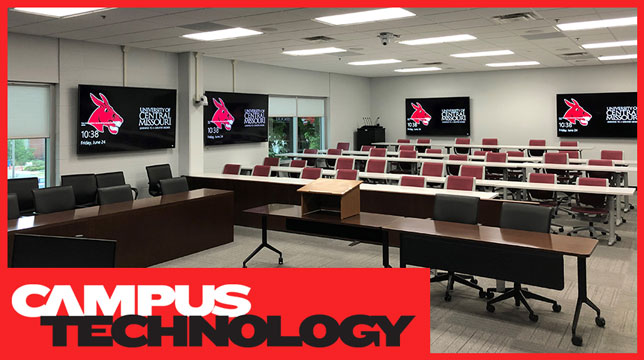 U Central Missouri is upgrading classrooms with AI- and AR-enabled technology for blended learning – Campus Technology
Audiovisual equipment
U Central Missouri is upgrading classrooms with AI- and AR-enabled technology for blended learning
Hybrid classroom at the University of Central Missouri
The University of Central Missouri is updating its classrooms with new audio-visual technologies that use artificial intelligence and augmented reality to capture more engaging and flexible presentations and better meet the needs of blended learning. The school has partnered with AV service provider AVI-SPL to implement Sony's Edge Analytics solution and SRG-X120 pan, tilt and zoom (PTZ) cameras as the new classroom standard on campus.
The rollout began with the installation of over 30 Edge devices which, together with Sony PTZs, act as a virtual camera operator for conference recording. Edge offers a number of AI-powered features (some of which require the purchase of an individual license for activation):
PTZ auto-tracking, to automatically track a presenter and ensure they stay in focus and in frame;
Handwriting extraction, which detects words and patterns written on a board or screen and uses augmented reality to ensure that information remains in plain view of the public, no matter where it is speaker;
Chroma keyless CG overlay, which can extract the presenter's image and overlay it on any background image, animation or video in real time; and
Focus area cropping, which allows an image frame captured by a single camera to be viewed simultaneously as two different output images (for example, to show the presenter's head close-up next to the complete video image).
UCM has opted to enable Edge's presenter tracking and handwriting extraction features, and is exploring chroma keyless CG overlay in select classrooms. It plans to implement 14 more systems in the future.
"Prior to the pandemic, UCM was seeing a change in the way it delivered classroom content," Ray Walters, head of multimedia at the university, explained in a statement. "At the same time, I was getting numerous requests from university deans and educators to enable hybrid classrooms where lectures could be recorded and presented in an asynchronous format… When I discovered the device before- trendsetting Edge Analytics from Sony, it was a breath of fresh air. It meets several different needs for my classrooms as we pursue a hybrid teaching experience. The reasonable price and simple operation reduce friction for students. users in the room Sony had nailed everything I needed in a small package.
"It's a box with licenses that enhance your room's capabilities, depending on your needs and budget," noted David Gantz, account manager at AVI-SPL. "Instructors love the presenter tracking feature for whiteboarding and presenting. The tracking is very smooth and precise and easy to teach someone. not make the room complex, because complexity deters instructors from wanting to use technology."
Gantz added that technology gives UCM a competitive advantage in terms of student recruitment and engagement: "To attract students to a school, you have to offer collaboration and interactivity. Technology is something students are born with and use every day. They expect it to infiltrate every part of their life and education is no exception. By providing a new level of engagement, new abilities, and a digital mindset, students can overcome some of the traditional classroom concerns and distractions and ensure they have a good view of the instructor and their notes – no matter where they sit."

About the author: Rhea Kelly is editor-in-chief of Campus Technology. She can be reached at [email protected].