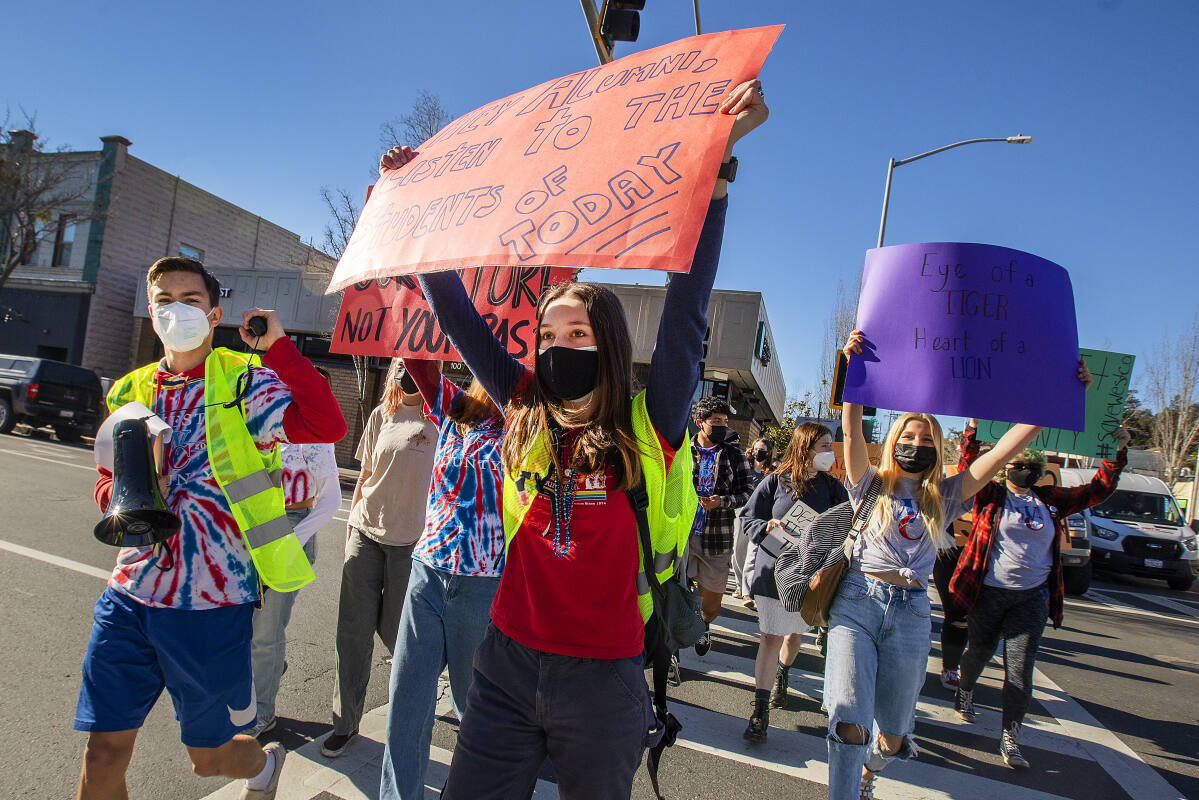 West County High School students walk out of class again following reversal of name change
Meghan Hartsock had a favor to ask.
Before launching into a prayer stripping the bark of the school board that governs her and her classmates, the West County High School junior implored the roughly 90 protesters in Sevastopol's town square:
"We want to be socially distant so we don't get pulled over by the cops. Try to stay about six feet apart, please. I would really like that."
Welcome to student protests in the age of COVID-19.
The walkout, West County High's second in six weeks, was timed so Hartsock and company could express their outrage — yet again — at the West Sonoma County Union High School District board's 4-1 decision, the 1st December, canceling plans to rename the school, which will soon revert to Analy.
Shortly after that first protest, students formed the West County Activist Club, which asked the school board to put the topic of rebranding on the agenda for its Jan. 19 meeting. This does not happen. And so, from 10:30 a.m. on Wednesday, the students took to the streets.
"Make sure our board keeps its promises," read a sign, encouraging directors to go back on their word. They had announced plans to rename the school last March, after voting to consolidate Analy High School with the district's El Molino High School in Forestville, which was closed to fill a budget shortfall.
In May, the board approved West County as the temporary name for the Sevastopol campus. The rebranding would take place, he said, after soliciting extensive input from students. Last month's sudden decision to simply revert to Analy's name sparked widespread anger – and now a pair of student protests.
The West County name, board member Julie Aiello said Wednesday, "didn't bring the community together like we had hoped."
The board's decision was influenced by Analy alumni, who were singled out for their disregard in numerous signs seen on Wednesday.
"Dear oldtimers," read a sign held up by a student whose knee-high socks sported a skull and crossbones design, "Just say you peaked in high school and move on."
This protest was a little trickier than the previous one, forcing students to vent their frustration while respecting Sonoma County's recent ban on outdoor gatherings of more than 100 people, a move taken to slow the surge. of the omicron variant of COVID-19.
The day before the event, news broke on social media that the marchers would split into groups of fewer than 100 students, each marching to a different location. Gathering locations included the Plaza, the Barlow, and the intersection near the CVS Ice Cream Shop and Screamin' Mimis.
"My primary concern is the safety of our students," West County Superintendent Shauna Ferdinandson said, sounding mildly concerned as students headed for the walkout. "But they seem to be taking a lot of precautions and creating procedures that will help mitigate some of the risk."
Less pleased with the walkout was Board of Trustees Chairman Patrick Nagle, who issued a statement Wednesday morning expressing concern "about the safety of students, which cannot be monitored when or if they leave campus. Students have already missed a year and a half of in-person instruction. It is not in the interest of the students to miss any more.
Back at the Plaza – named, incidentally, in honor of Mario Savio, who rose to prominence five decades ago as a member of the Berkeley Free Speech Movement – ​​Hartsock was followed by the senior KatieAnn Nguyen, Savio's closest morning speaker.
"A walkout was NEVER enough," she declaimed to loud cheers. "It wasn't enough for (the board) to hear from you, not enough for them to understand your feelings, not enough for you to tell them how you feel about West County."
"You walk out of class today because you're angry, because you don't want your West County history erased."
Here, Nguyen got closer to the students' greatest source of anger and pain. As junior Asa Bush explained on the eve of the protest, she wasn't sure what to expect for this school year – the first semester since consolidation.
"Was it going to be this situation where no one wanted to tell anyone about their old rival school?" she said.
Instead, Bush continued, "Everyone really understood that we were starting something new together. And it really showed. At sporting events and dances, she says, "there was a very strong turnout. It's really inclusive. We really have to create our own community, right from the start," she said.
Coming back to Analy " defeats the purpose of uniting ".
It "completely disrupts the unity we've been trying to build this year," admitted Hunter Valencia senior.
"We are here, cutting our 3rd, 5th and 7th periods, not because we WANT to cut classes," roared Nguyen, "but because we demand change.
"It's no longer Analy. This is West County and it's here to stay.
Board member Nagle poured cold water on that sentiment. When asked earlier in the morning if there was any chance the directors would reconsider their decision to stop the rebranding, he said: "All I can say at this time is that there is no support to do so. On the board, we need three members to signal that they want to readdress it. At that time, there were not three members "who wanted to do this".
Nagle, appointed to the board in September, admitted the school's rebranding process "should have been more clearly defined".
A statement released by the West County Activism Club said administrators changed their minds about the rebranding because the Analy Alumni Association threatened to "draw on funds and donations" if they weren't successful.
That's not quite true, replied a member of the association, who asked that his name not be printed, in order to avoid receiving more "hate mail".
The statutes of the association stipulate that it will support the Lycée Analy. "If it's not Analy," the member said, "our rules aren't working."
Like many of her ex-El Molino and ex-Analy classmates, Bush is exasperated with Analy alumni "who can't accept change."
"We go to school," she says. "We are the ones creating something new. It affects us more than it affects them.
You can contact editor Austin Murphy at [email protected] or on Twitter @ausmurph88.